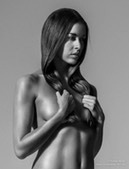 When shooting nude images as a model you should consider where your personal limits are and communicate these in advance. That is; how much of your private parts are to be seen and what kind of pictures are your comfortable making. It is crucial that both model and photographer agree on what to do, so the  model will not feel pressured into doing pictures she/he will regret later on. 
I have tried to classify various "categories" of nude photography/modeling to make communication easier between model and photographer.
I find the following groups generally cover the categories I work in, and also the models I generally work with are interested in doing. There are more groups of course but these are closer to the porn category and I don't generally do this kind of work.
Feel free to leave comments below.