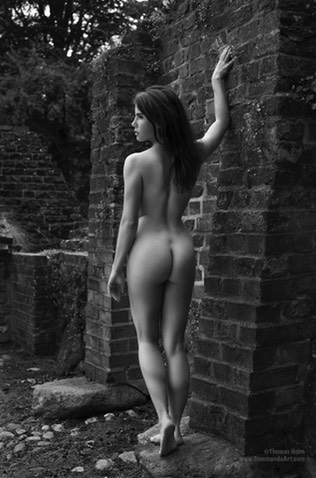 What's your name or would you prefer to be anonymous?
- Sandra Prudencio
How many times have you been photographed nude?
- I've been photographed nude once. 
What made you decide to pose nude first time you did?
- I think that nude photography is a form or art. I'm fascinated mostly by women's bodies, and it pleases my eyes to see different types nude. Therefore I always felt curiosity to try it. What made me pose for the first time was the opportunity to fulfil my curiosity and work together with a great professional. 
Why do you model for nude pictures and show your body to the world?
- Knowing that not everybody shares my opinion about nude and that the issue is controversial to some, I believe that it is art and therefore there is no reason for not doing it. Of course I feel some concerns about what opinion people will formulate about me as a person. And being in a world where image is a way of advertising my personal brand I might need to take care of a few details. 
Describe what it feels like to be nude while being photographed, does it feel unnatural for example?
- In the days before while thinking how it could be, I thought it could feel strange. But as it turned out, I took my clothes off and felt just normal. Metaphorically speaking, it's like being at the doctors. 
How did you feel after your first session and/or when you saw the pictures?
- I felt amazed, proud and happy.  I know my body, it is not the "perfection" I would like it to be. After seeing the photos I really felt happy because they were so beautiful. The light and how it shaped my body. Just right after the session Thomas sent me the first group of photos, unedited so I could see and give my feedback. After that I trusted his work, he chose the best images to edit and I loved them.
What is it like working with Thomas?
- Being a fan of nude photography and seeing other photographers work my opinion is that Thomas portfolio it very good. The way he sees the scene is amazing. He is very professional at all levels, from suggesting the best poses and giving feedback. He does not touch the models before asking everytime. Apart from that, he is a very nice man. 
What is/was the biggest worry about modeling nude, if any?
- What others without enough knowledge could think and how people would judge or change opinions about me as a person. Regardless I did not have worrys of the session itself.
Oversat til Dansk:
Hvad hedder du eller vil du hellere være anonym?
- Sandra Prudentio
Hvor mange gange er du blevet fotograferet uden tøj?
 - Jeg er blevet fotograferet nøgen en enkelt gang

Hvad fik dig til at stå model nøgen første gang?
 - Jeg syntes Nude fotografi er en form for kunst. Jeg er mest facineret af kvinders kroppe og det glæder mine øjne at se forskellige kvindetyper nøgne. Derfor har jeg altin været nysgerrig efter at prøve det. Det der fik mig til at posere første gang var nok mest muligheden for at få stillet min nysgerrighed, og samtidig arbejde sammen med en dygtig professionel fotograf.


Hvorfor laver du nøgenbilleder, og viser din krop for verden?


- Selvom jeg ved at ikke alle deler min mening omkring nøgenhed og at emnet er kontroversiolt for nogle, mener jeg at det er kunst og at der derfor ikke er nogen grund til ikke at gøre det. Selvfølgelig er der nogle bekymringer omkring hvad andre vil tænke om mig som person. Og i en verden hvor jeg bruger mit image til at markedsføre mit personlige brand er der måske et par detaljer der skal tænkes igennem.
Prøv at beskrive hvordan det føles at blive fotograferet nøgen, er det unaturligt for eksempel?
 - I dagene op til når jeg tænkte på hvordan det ville være troede jeg det måske ville være underligt. Men da vi startede tog jeg mit tøj af og følte mig helt normal. Metaforisk talt er det ikke anderledes and at gå til lægen.

Hvordan følte du efter dit første shoot og/eller da du så billederne?


- Det var fantastisk, jeg følte mig stolt og glad. Jeg ved min krop ikke er så perfekt som jeg gerne vil have den skal være. Efter jeg så billederne følte jeg mig virkelig glad fordi de var så smukke. Lyset og hvordan det formede min krop. Ikke lang tid efter vores session sendte Thomas mig den første gruppe billeder uredigerede så jeg kunne se og give feedback. Derefter stolede jeg helt på hans arbejde, han udvalgte de bedste til redigering og jeg elskede dem.

Hvordan er det at arbejde med Thomas helt generelt?


- Som en fan af nude fotografi og har set andre fotografers arbejde er min mening at Thomas portfolio er virkelig god. Den måde han ser en scene på er fantastisk. Han er professionel på alle måder lige fra at finde de bedste poseringer til at give feedback. Han rører aldrig modellerne uden at spørge om tilladelse først. Derudover er han en meget rar mand.

Hvad er den største bekymring (hvis der er nogen) ved at lave billeder uden tøj?


- Hvad andre uden nok viden ville tænke og hvordan andre ville dømme eller ændre mening om mig som person. Jeg havde ingen bekynring omkring selve sessionen.